This Open Access Week sees the launch of the fully open version of our popular Research Support Ambassador programme. This initiative has been running in Cambridge libraries since 2015 and has seen over one hundred staff from across the library network enhance their knowledge of scholarly communication. It has also been through several different versions, transitioning from a taught face-to-face programme to an internal online course. The time is now right to open up this content to a wider audience and launch the programme as a resource for anyone who wants to make use of it. You can watch an online trailer for the programme on our OSC YouTube channel.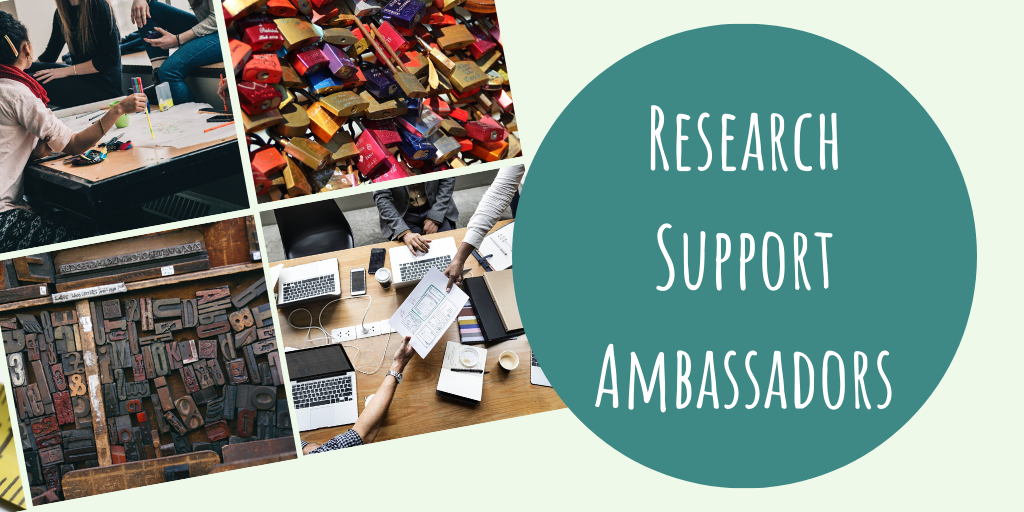 The Ambassador programme offers interested library staff the chance to learn about the fundamentals of scholarly communication and research support from data management and open access to copyright and assessing impact. It was first conceived in 2015 as part of the initial phase of training offered by the newly established Office of Scholarly Communication (OSC) which was tasked with improving the support offered to researchers by the library network. The OSC quickly realised that Cambridge library staff were keen to get more involved but perhaps that they needed a thorough grounding in the basics in order to improve their confidence levels. The Research Ambassadors were launched as a way to get people up to speed at the same time as producing an output which could be shared with the wider community. As with all new initiatives, it was not without its problems and these are highlighted in the case study that I wrote about the programme a couple of years ago. When I took over the programme in late 2015 I listened to the feedback from participants and began to evolve i into its current form as an educational programme. Initially this was delivered in a series of face-to-face workshops with participants being asked to work on a project like an online resource as an outcome that they could point to but it soon became obvious that this was too much for many busy library staff to commit to and so the project element was dropped and we focused on developing key knowledge. The next run of the programme used a blended learning approach with a mixture of in-person and online training but even this proved difficult for many staff to complete and so the programme was moved completely online in 2018. Feedback indicated that participants found both the content and the format useful, especially as they had the flexibility to learn around their other commitments and could dip back into the content as needed to refresh their knowledge. At the same time the OSC were starting to get a lot of enquiries from people outside Cambridge wanting to know if the content was available for everyone and so we have decided to open it up to anyone who wants to see it. As the programme was Cambridge focused this was not just a case of transferring the content so I took the opportunity to update and refresh all of the content.
The programme is now a resource and this terminology is deliberate. I didn't want to call it a course as this comes with the expectation that people need to complete everything in order to get the best out of it. Learners can of course go through all of the units in turn and build their knowledge that way but they can also dip into content as needed as a refresher. The resource has six units which loosely follow the research lifecycle:
an introduction to scholarly communication
research data management
open access
publishing research
copyright
metrics and impact
Each unit comes with a suggested completion time and learning outcomes but these are there to offer learners some guidance before they invest their time. The six units offer a brief introduction to the topic using a mixture of content from text and videos to podcasts and activities so it there should be something for everyone. Although of this content is optional, it helps to increase the flexibility of the resource so that it becomes truly open to more people.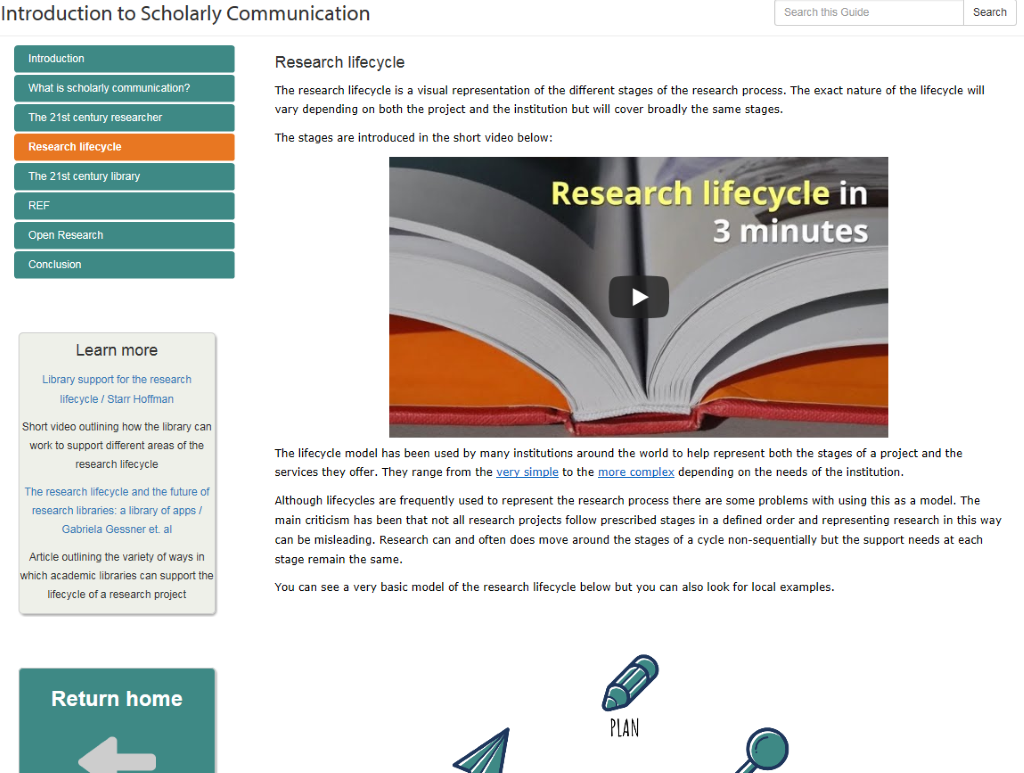 Turning an in-house programme into an open educational resource was not without other challenges. Obviously the original programme had a defined audience of Cambridge librarians who have a shared history and terminology. In the process of making the resource open I had to make sure that it was more accessible to a wider audience so I removed anything that was 'Cambridge specific' and gathered wider examples that I could use to illustrate the points I was making. I also had to make sure that I considered accessibility including making sure that images were labelled with alt-text and providing transcripts for videos. This was a good learning experience for me and something especially useful ahead of new government accessibility guidelines being introduced. However, this was very much a solo project and there will inevitably be something I have missed so we are launching the Ambassadors as a Beta resource with an option for people to offer feedback. I very much hope people will take us up on this and offer suggestions for inclusions and improvements. The resource is largely being released under a CC-BY-NC-SA 4.0 licence which means that others are free to adapt and build on the content. If anyone does this I would be really interested to learn about it! You can also find a ready-made information leaflet and a cartoon abstract of the case study which can be downloaded and shared if you want to promote the resource to a group of people.
On a more personal note, the launch of the online Research Support Ambassador resource marks the end of my time working in the Office of Scholarly Communication. I will still be involved in projects to educate the library community in research support including some future plans for the Ambassador programme but day to day I am moving to be a research support librarian within the wider university. I've enjoyed educating librarians in research support so much and I really hope that people will find the online Ambassador resource useful. The main message I want librarians to take away is that they have a lot to offer in this area. The theme of Open Access Week 2019 is 'open for whom' and I really hope that by collating what I have learnt in the last four years I can help make research support and scholarly communication open for the wider library community.
Published 24 October 2019
Claire Sewell (Research Support Skills Coordinator turned Research Support Librarian, Cambridge University Libraries) @ces43