First up, HEFCE's Open Access policy: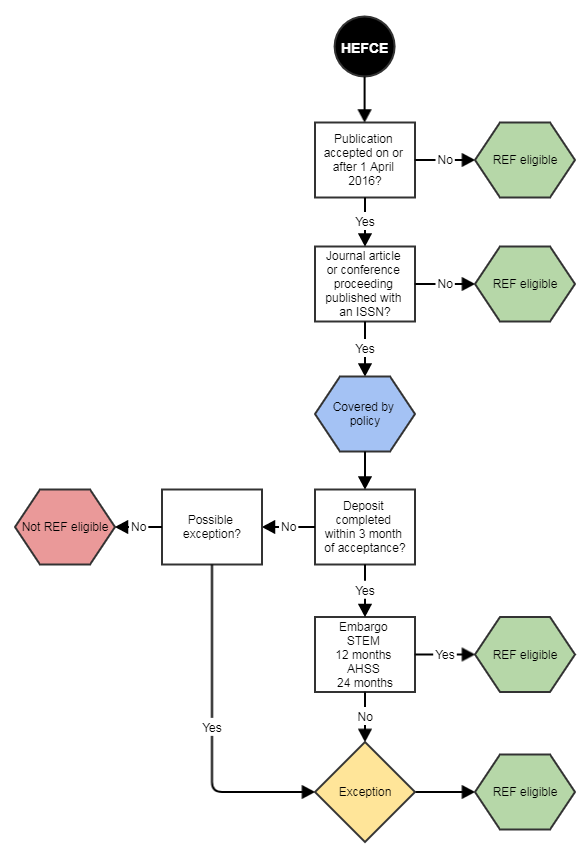 At the outset, let's be clear: the HEFCE Open Access policy applies to all researchers working at all UK HEIs. If an HEI wants to submit a journal article for consideration in REF 2021 the article must appear in an Open Access repository (although there is a long list of exceptions). Keen observers will note that in the above flowchart HEFCE's policy is enforced based on deposit within three months of acceptance. This requirement has caused significant consternation amongst researchers and administrators alike; however, during the first two years of the policy (i.e. until 31 March 2018) publications deposited within three months of publication will still be eligible for the REF. At Cambridge, we have been recording manuscript deposits that meet this criterion as exceptions to the policy[1].
Next up, the RCUK Open Access policy. This policy is straightforward to implement, the only complication being payment of APCs, which is contingent on sufficient block grant funding. Otherwise, the choice for authors is usually quite obvious: does the journal have a compliant embargo? No? Then pay for immediate open access.

One extra feature of the RCUK Open Access policy not captured here is the Europe PMC deposit requirement for MRC and BBSRC funded papers. Helpfully, the policy document makes no mention of this requirement; rather, this feature of the policy appears in the accompanying FAQs. I'm not expert, but this seems like the wrong way to write policies.
Finally, we have the COAF policy, possibly the single most complicated OA policy to enforce anywhere in the world. The most challenging part of the COAF policy is the Europe PMC deposit requirement. It is often difficult to know whether a journal will indeed deposit the paper in Europe PMC, and if, for whatever reason, the publisher doesn't immediately deposit the paper, it can take months of back-and-forth with editors, journal managers and publishing assistants to complete the deposit. This is an extremely burdensome process, though the blame should be laid squarely at the publishers. How hard is it to update a PMC record? Does it really take two months to update the Creative Commons licence?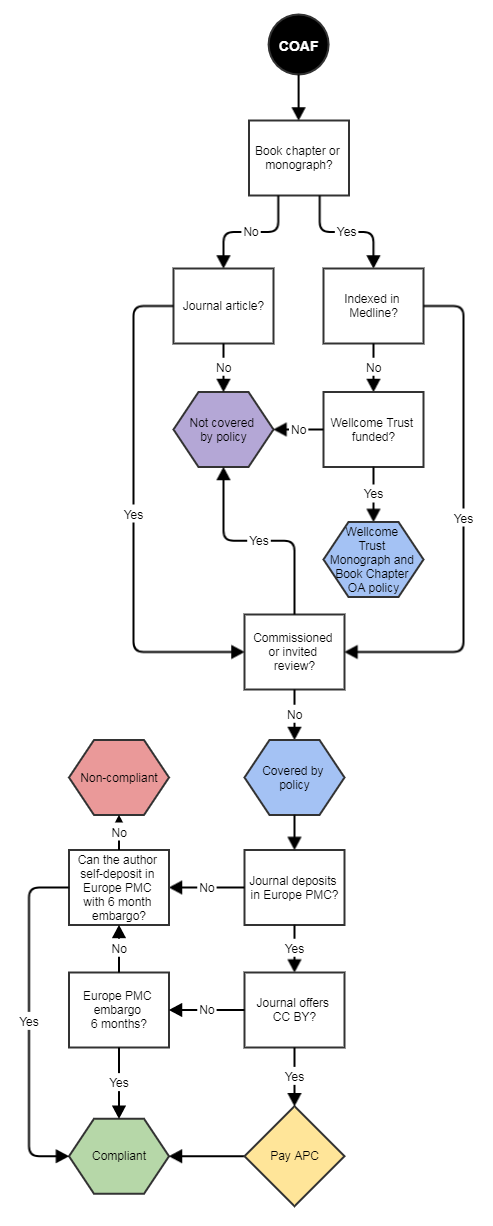 This leads us to one of the more unusual parts of the COAF policy: publications are considered journals if they are indexed in Medline. That means we will occasionally receive book chapters that need to meet the journal OA policy. Most publishers are unwilling to make such publications OA in line with COAF's journal requirements so they are usually non-compliant.
What happens if you should be foolish enough to try to combine these policies into one process? Well, as you might expect, you get something very complicated: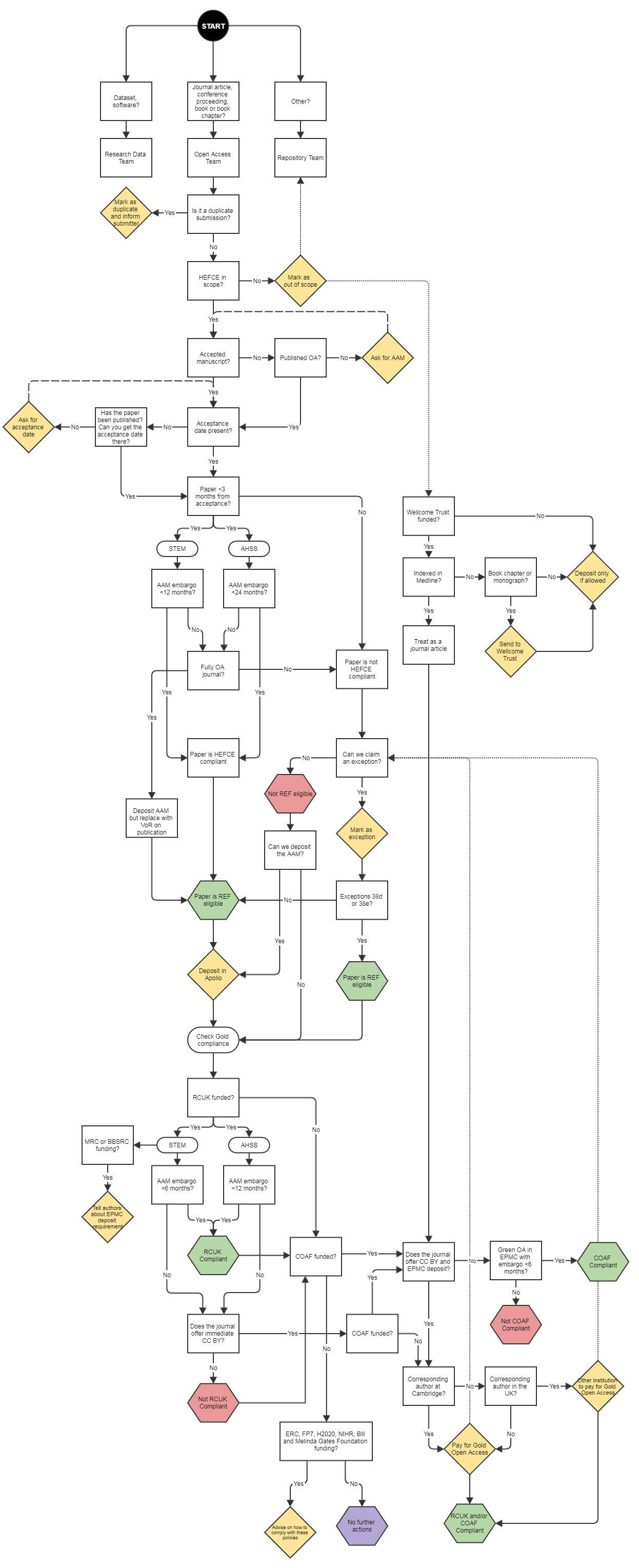 This flowchart, despite its length, still doesn't capture every possible policy outcome and is missing several nuances related to the payment of APCs, but nonetheless, it gives an idea of the enormous complexity that underlies the decision making process behind every article deposited in Apollo and in other repositories across the UK.
[1] Within the University's CRIS, Symplectic Elements, only one date range is possible so we have chosen to monitor compliance from the acceptance date. Publications deposited within the 'transitional' three months from publication window receive an 'Other' exception within Elements that contains a short note to this effect.