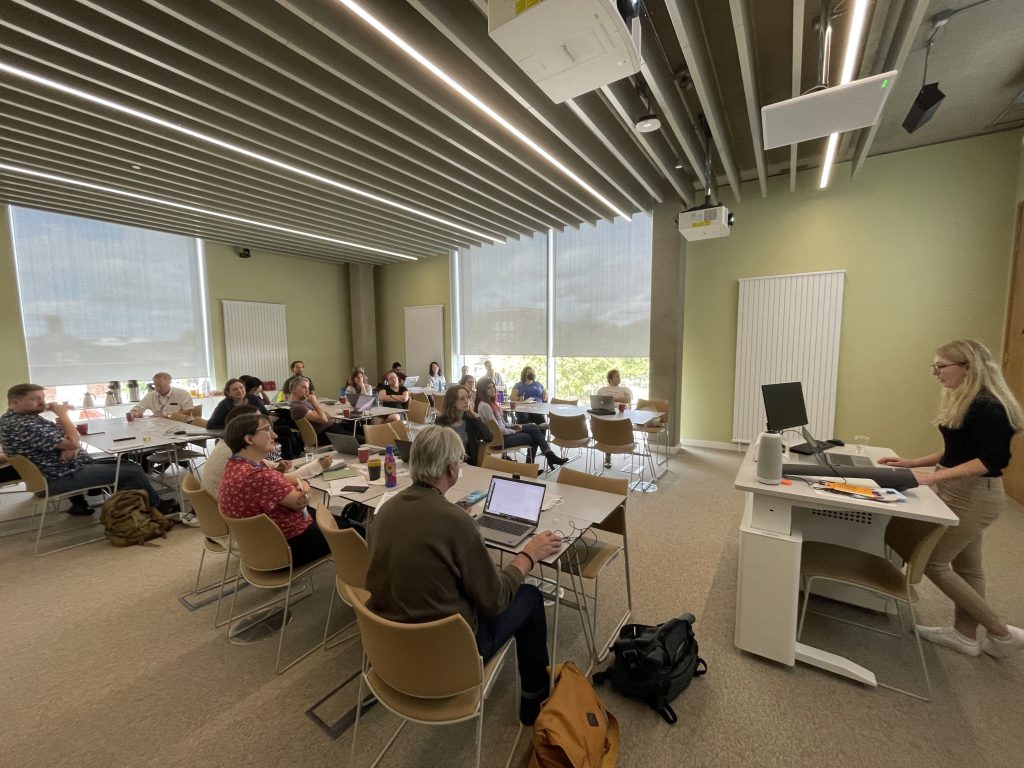 The Cambridge Data Champions had a fantastic September Forum at the West Hub. The forum started with an introduction to the West Hub by Library Manager Daniele Campello and we welcomed Clair Castle as the new interim Research Data Manager with the Office of Scholarly Communication (University Library).
Dr Mandy Wigdorowitz kicked off the presentations by sharing with the Data Champions what she aims to achieve as the University's Open Research Community Manager. This includes raising the profile of Open Research at the University and ensuring that scholarly and research outputs that are deemed to be open are indeed accessible and interoperable in accordance with FAIR principles. As Open Research Community Manager, Mandy advocates for Open Research among University researchers from both the STEMM and AHSS (Art, Humanities and Social Sciences) disciplines. The latter proves to be more challenging as researchers in AHSS may often have valid reasons from refraining from making their research data open, such as working with sensitive data or working with interlocutors who object to their data being shared. Such issues will be addressed at the Cambridge Open Research Conference that she is organising, which takes place on 17th November 2023 at Downing College, Cambridge as well as online. To end, Mandy invited the Data Champions to join her Open Research initiative, a community of advocates for Open Research across the University.
Before lunch, Madeleine Taylor (Information Security Risk and Governance Manager with University Information Services, UIS) presented a follow up to a webinar session on monitoring the Information and Cybersecurity (ICS) risks for research data across the university, which she conducted with the Data Champions a couple weeks prior. After a brief introduction of what she has done so far to protect Cambridge's research communities against ICS threats, she asked the Data Champions for help in her task of securing research data against ICS risks. They can do so by providing her with a sense of what data their own research communities are working with and how they were storing them. As the Data Champions ate the delicious lunch of sandwiches and cakes provided by the West Hub caterers, they provided feedback to Madeleine on two forms that she proposed as methods of gathering the information she needed: a 3-minute research data impact assessment form and a research data cyber security risk form. Maddy will continue to work with the Research Data Team and the Data Champions to refine, and gather information, through these forms.
Thank you to the West Hub and Daniele Campello for hosting the Data Champions Forum in your welcoming building!
If you are a member of the University of Cambridge and are interested in attending the Data Champions Forum, please join us as a Data Champion. If you are passionate about research data management and data sharing or you would like to find out more about what being a Data Champion entails, please visit the Data Champions webpage. We welcome applications from those working in all academic subjects across AHSS and STEMM disciplines. If you are unsure about how being a Data Champion would impact your research, please get in touch with the Research Data Team!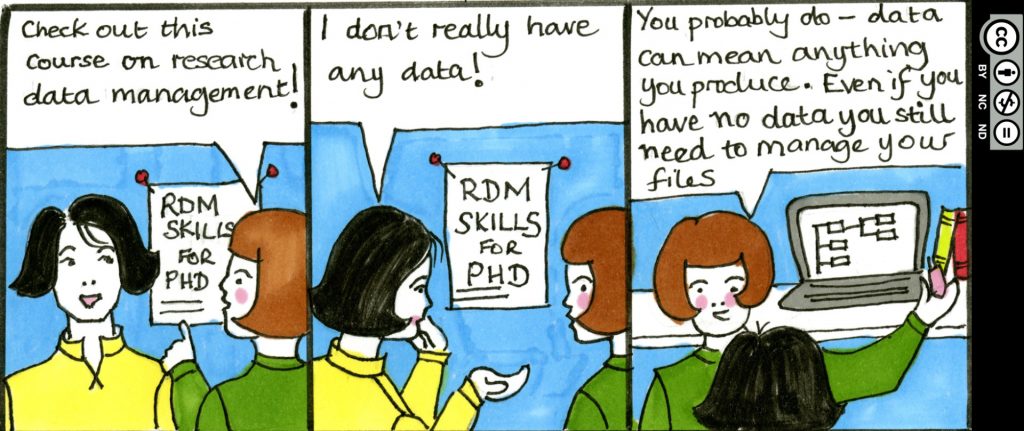 Cartoon by Clare Trowell CC-BY-NC-ND