During International Data Week 2016, the Office of Scholarly Communication is celebrating with a series of blog posts about data. The first post was a summary of an event we held in July. This post looks at the challenges associated with financially supporting RDM training.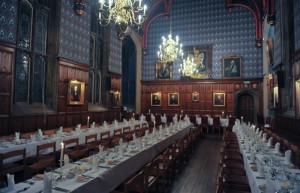 Following the success of hosting the Data Dialogue: Barriers to Sharing event  in July we were delighted to welcome the Research Data Management (RDM) community to Cambridge for the second Jisc research data network workshop. The event was held in Corpus Christi College with meals held in the historical dining room. (Image: Corpus Christi )
RDM services in the UK are maturing and efforts are increasingly focused on connecting disparate systems, standardising practices and making platforms more usable for researchers. This is also reflected in the recent Concordat on Research Data which links the existing statements from funders and government, providing a more unified message for researchers.
The practical work of connecting the different systems involved in RDM is being led by the Jisc Research Data Shared Services project which aims to share the cost of developing services across the UK Higher Education sector. As one of the pilot institutions we were keen to see what progress has been made and find out how the first test systems will work. On a personal note it was great to see that the pilot will attempt to address much of the functionality researchers request but that we are currently unable to fully provide, including detailed reporting on research data, links between the repository and other systems, and a more dynamic data display.
Context for these attempts to link, standardise and improve RDM systems was provided in the excellent keynote by Dr Danny Kingsley, head of the Office of Scholarly Communication at Cambridge, reminding us about the broader need to overhaul the reward systems in scholarly communications. Danny drew on the Open Research blogposts published over the summer to highlight some of the key problems in scholarly communications: hyperauthorship, peer review, flawed reward systems, and, most relevantly for data, replication and retraction. Sharing data will alleviate some of these issues but, as Danny pointed out, this will frequently not be possible unless data has been appropriately managed across the research lifecycle. So whilst trying to standardise metadata profiles may seem irrelevant to many researchers it is all part of this wider movement to reform scholarly communication.
Making metadata work
Metadata models will underpin any attempts to connect repositories, preservation systems, Current Research Information Systems (CRIS), and any other systems dealing with research data. Metadata presents a major challenge both in terms of capturing the wide variety of disciplinary models and needs, and in persuading researchers to provide enough metadata to make preservation possible without putting them off sharing their research data. Dom Fripp and Nicky Ferguson are working on developing a core metadata profile for the UK Research Data Discovery Service. They spoke about their work on developing a community-driven metadata standard to address these problems. For those interested (and Git-Hub literate) the project is available here.
They are drawing on national and international standards, such as the Portland Common Data Model, trying to build on existing work to create a standard which will work for the Shared Services model. The proposed standard will have gold, silver and bronze levels of metadata and will attempt to reward researchers for providing more metadata. This is particularly important as the evidence from Dom and Nicky's discussion with researchers is that many researchers want others to provide lots of metadata but are reluctant to do the same themselves.
We have had some success with researchers filling in voluntary metadata fields for our repository, Apollo, but this seems to depend to a large extent on how aware researchers are of the role of metadata, something which chimes with Dom and Nicky's findings. Those creating metadata are often unaware of the implications of how they fill in fields, so creating consistency across teams, let alone disciplines and institutions can be a struggle. Any Cambridge researchers who wish to contribute to this metadata standard can sign up to a workshop with Jisc in Cambridge on 3rd October.
Planning for the long-term
A shared metadata standard will assist with connecting systems and reducing researchers' workload but if replicability, a key problem in scholarly communications, is going to be possible digital preservation of research data needs to be addressed. Jenny Mitcham from the University of York presented the work she has been undertaking alongside colleagues from the University of Hull on using Archivematica for preserving research data and linking it to pre-existing systems (more information can be found on their blog.)
Jenny highlighted the difficulties they encountered getting timely engagement from both internal stakeholders and external contractors, as well as linking multiple systems with different data models, again underlining the need for high quality and interoperable metadata. Despite these difficulties they have made progress on linking these systems and in the process have been able to look into the wide variety of file formats currently in use at York. This has lead to conversations with the National Archive about improving the coverage of research file formats in PRONOM (a registry of file formats for preservation purposes), work which will be extremely useful for the Shared Services pilot.
In many ways the project at York and Hull felt like a precursor to the Shared Services pilot; highlighting both the potential problems in working with a wide range of stakeholders and systems, as well as the massive benefits possible from pooling our collective knowledge and resources to tackle the technical challenges which remain in RDM.