The world of Open Access moves fast and it can be difficult to keep up. We run regular updates for our community here at Cambridge and following a recent webinar, figured a blog about it might be a good idea too. Strap yourselves in, this is a bumpy ride.
Sweden draws the line
After a breakdown in negotiations, the Bibsam Consortium in Sweden cancelled the agreement with Elsevier on 16 May. It is anticipated that after 1 July 2018, Swedish universities will not have access to new articles in Elsevier's journals. Articles published before this date will remain accessible.
In his blog, The circuitous road towards open access: Swedish universities to pull the plug on Elsevier, Ole Petter Ottersen  Rector of Karolinska Institute in Sweden noted: "Almost 600 years ago the development of the printing press led to dramatic changes in how knowledge was spread and communicated. This did not happen without opposition. Today digitalization opens for an equally dramatic and welcome change towards the democratization of knowledge. …  It's time that knowledge becomes a public good."
Europe no-deals
Sweden is following a growing European trend in relation to pulling out of publishing deals.
On 30th of March this year, the French national consortium representing 250 academic institutions, Couperin.org, cancelled subscriptions to SpringerNature journals. Despite expectations that the publisher would cut access, Springer is maintaining access to journals for French institutions while discussions continue.
Two weeks earlier on 12 March, the Dutch consortium VSNU announced that "Dutch universities and Royal Society of Chemistry Publishing (RSC) have been unable to reach a new agreement on access to scientific journals". In anticipation of losing access to the material, the VSNU has advised that researchers use alternative ways to access materials including Unpaywall, Open Access button and requesting a copy from the author or from the library. At the end of the list 'if all else fails' they suggest using Sci-Hub, noting that "the use of Sci-Hub is considered as an illegal act".
There were concerns that German researchers would lose access to Elsevier materials from January 2017 after negotiations broke down and subscriptions stopped being paid at the end of 2016.  But in January this year, Nature reported that German universities still had access to Elsevier journals as discussions continued.  It has been estimated that across the country, libraries are saving more than €10 million (£8.7 million) a year as a result of cancelling the subscriptions.
While not exactly 'new news' it is worth mentioning here that in October 2016, the French Law for a Digital Republic Act came into force, including Article 30, which is about Open Access and creates a legal right for authors to archive an OA copy, even if they have granted an exclusive right to publish.
Springer sinks
On May 9, Springer Nature was due to be listed on the German midcap index, offering 1.6 billion Euros in shares. However the day before, the float was cancelled due to 'weak demand'.
An analysis of the prospectus recently published in the Times Higher Education has identified plans for Springer Nature to link the cost of Article Processing Charges for open access with a journal's Impact Factor. This is interesting to say the least and indicates a move by large publishers to consolidate payments for open access into an effective new type of Big Deal. This approach also further cements the current flawed academic reward system despite Springer recently signing the Declaration on Research Assessment (DORA). The messages the academic/library community are being given are in stark contrast to the messages that were being sent to potential investors.
ResearchGate shenanigans
ResearchGate is an academic social networking site upon which researchers post copies of their works, often against copyright agreements they have signed with their publishers. In October last year, Elsevier and the American Chemical Society filed a lawsuit in Germany against ResearchGate, alleging copyright infringement on a mass scale. In November, ResearchGate restricted access to 1.7 million papers on their site. The court case began on 18 April in Germany with the intention to: "establish clarity on the legal responsibility of ResearchGate regarding copyright infringements".
Not all publishers have agreed with this combative approach to ResearchGate. A day after the court case began, an agreement between Springer, Cambridge University Press, Theime and Research Gate was announced. The agreement is to work together on the sharing of articles on the scholarly collaboration platform "in a way that protects the rights of authors and publishers".
All together now
The 1 April marked several important happenings in the open access space. The former Research Councils UK and Higher Education Council for England merged under the single banner of UK Research and Innovation (UKRI), with the latter being rebranded as Research England. Apart from the intensely irritating breaking of every link to RCUK webpages, this is a very positive step. Even before starting operations, the organisation was flagging a review of open access, including questioning whether it would continue to support the payment of hybrid article processing charges.
The 1 April also marked the first time HEFCE/Research England was implementing the 'three months from acceptance' rule for compliance of works for the Research Excellence Framework (REF). This timeframe for depositing works and making them open access was in the original policy, but in the first two years of operation of the policy, HEFCE relented to pressure from institutions concerned they were not prepared and amended the policy to 'three months from publication'. This has been a tricky balancing act for those working in institutions (such as the Office of Scholarly Communication), with many opting not to inform their research community of the extended time frame from 1 April 2016 because of concerns about confusion. It is a relief to have the policy operating as originally written.
Speaking of REF, in March 2017, HEFCE conducted a consultation on the REF. The initial outcomes were made available in September last year.  The guidance for the 2021REF is not far from being released for feedback, and signs are that there might be some movement on the question of the eligibility of arXiv as a repository. Those interested in this issue might find "ArXiv and the REF open access policy" by yours truly and Katie Shamash which presents the case that articles deposited to arXiv are, in general, compliant with the requirements of the HEFCE policy worth a read.
Wellcome Trust consultation
Not to be left out, the Wellcome Trust is coming to the end of its consultation on its open access policy. Wellcome Trust has, along with the National Institutes of Health, led the world in the implementation of open access requirements in 2005. This is the first wide scale review of the policy and the report from the review will be released by the end of 2018.
Questions being asked of funders, publishers and institutions have focused on the hybrid question. There has also been discussion of the merits or otherwise of the Wellcome Trust centralising the negotiation with publishers and managing the block grants centrally. Some respondents have made their responses public already, such as SCONUL.
Responsible metrics?
As we blogged about recently, a considerable amount of open access activity is tied into reproducibility issues in research. Universities UK is involved in a Forum for Responsible Research Metrics in conjunction with HEFCE to address these questions. At an event in February this year: 'The turning tide: A new culture of responsible metrics for research' researchers spoke about the impact of metrics on their careers and health. Spoiler alert: it is not good.
The first half of last year saw a spate of organisations signing the San Francisco Declaration on Research Assessment (DORA) including Nature (April 2017), Imperial College London  and Birkbeck University of London (both in Feb 2017). However, University College London gets the prize, having signed up in 2015. In February 2018 all seven UK research councils signed up to DORA.
Early this year DORA revamped its steering committee. In addition funders (ASCB, Cancer Research UK, the European Molecular Biology Organization and Wellcome Trust) and publishers (the Company of Biologists, eLife, F1000, Hindawi and PLOS) invested in DORA to allow the hiring of a full-time community manager.
Data monetisation
There has been an increase in the offerings by publishers to manage data. Mendeley (owned by Elsevier) has long been in this space, but in 2018 Mendeley Data announced a 'comprehensive research data platform for institutions' and 'superior data management for researchers'. Note that under the 'Data Linking' heading it only offers to link "datasets in repositories with research articles on ScienceDirect", which suggests limited value of the 'service'.
Elsevier is experimenting with ways to monetise freely available data. Datasearch allows people to: "Search for research data across domains and types, from many domain-specific, cross-domain and institutional data repositories". The FAQs list the repositories that are indexed, including Cambridge's very own Apollo. Because our metadata is available under a CC0 license there is nothing we can do. The FAQs also state: "At the moment, DataSearch is not a commercial product." There is no guarantee of course that this will remain the status quo.
But Elsevier is not the only company moving into this space. Since 22 March, Springer Nature have been offering 'Research Data Support' which for £265 + VAT will deposit up to 50GB of data into figshare – a commercial repository owned by Digital Science, which shares a parent company with Springer Nature. The companies insist they are entirely separate organisations.
Ecosystem takeover
If this is all starting to sound a little incestuous, then you are on the right track. As I am arguing in an upcoming Group Editorial for the Journal of Librarianship and Scholarly Communication:
There has been a redirection of business strategy by some academic publishing companies to develop portfolios that address the entire research process. Rather than adjusting workflows and internal processes, several companies are moving away from publishing into scholarly infrastructure: the tools and services that underpin the scholarly research life cycle, many of which are geared toward data analytics. This has been effected through an aggressive acquisition program in the case of Elsevier, and through the development of new products in the case of Digital Science. In both cases, the individual products across the portfolio retain their own distinctive branding.
Possibly the most dramatic way to illustrate the extent of the situation is a graphic showing where Elsevier-owned products sit throughout the research lifecycle, appearing in Rent Seeking and Financialization strategies of the Academic Publishing Industry – Publishers are increasingly in control of scholarly infrastructure and why we should care- A Case Study of Elsevier.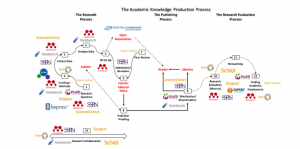 This situation requires vigilance. Infrastructure is the next big battleground.
Stay up to date
Remember, the Office of Scholarly Communication tries to make our work as accessible as possible to all. In addition to this blog we have a sister blog called Open Research:  Adventures from the frontline.
We publish two monthly newsletters – KaleidOSCope is focused on scholarly communication more broadly and the Research Data Newsletter keeps people up to date on data issues and opportunities.
Many of our presentations are filmed and uploaded to our YouTube channel – and there is a list of our recordings of past events including all the presentations from our TDM Symposium, our Open Access Week 'getting published' events and Engaging Researchers in Good Data Management.
Our presentations are freely available from Apollo, as are the slides from our training sessions. Our Twitter feeds are very popular, Cambridge Open Access @CamOpenAccess and Cambridge Research Data Management @CamOpenData.
You have no excuse!