Last month we put out a call for people working in scholarly communication to record and send us their views on what it takes to work in this area. After a slow start we now have a few uploaded.
As a head's up, here's the combined responses from four Jisc sessions held over summer to the question:
Which personal attributes do you think are most valuable in scholarly communications roles?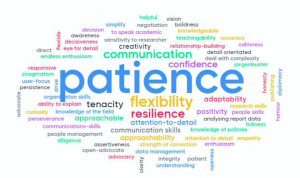 With words like 'persistence', 'communication', approachability' and 'negotiation', this word cloud starts to reflect some of the advice we published recently for new starters in open access. But it's not all scary – some of it is even fun! Take it from those who are walking the talk.
On this last day of Open Access Week we are pleased to showcase some of the first responses. So far we have received four contributions and these have started to demonstrate the broad range of roles available in this exciting area. Below you will hear from colleagues working in data management, librarianship and training roles as they discuss their daily jobs, the challenges they face and the skills they need.
We hope that you can use them to think about how you could make your own career in scholarly communication. If you would like to contribute your own interview (either in video or text format) the submission form can be found here. We hope to bring you more interviews over the next few months, building up into a useful bank of information for anyone wanting to work in scholarly communication and research support.
(With huge thanks to our contributors – Clair Castle, Natasha Feiner, Kate O'Neill, Claire Sewell and Sarah Stewart)
Clair Castle – Working in RDM
Claire Castle, Chemistry Librarian and Research Data Coordinator at the University of Cambridge discusses her role supporting researchers with their data management:
Natasha Feiner – Working in Research Support
Natasha Feiner, Senior Library Assistant at the University of Reading, talks about what her role involves and the importance of paying attention to detail:
What are the core tasks of your job?
Day to day I spend a lot of my time checking and updating records in the university's institutional repository, CentAUR. This often involves talking to researchers and publishers about things like copyright agreements and sharing policies. On an intermittent basis I carry out 'health checks' on the records in CentAUR, for accuracy and REF compliance. At the moment I am undertaking an 'in-press' check to identify newly-published books and articles in the repository. Beyond CentAUR, I provide administrative support for open access events and training at the University of Reading. I am currently assisting with the organisation of a conference planned for 2019 that will focus on open research and publishing. I am also an active member of the university library. I provide liaison support for the Arts and Humanities team, and am involved with user services for the Business and Social Sciences team.
What are the skills you need to do this job well?
For the CentAUR side of things, attention to detail is really important. Minor mistakes could have serious implications for REF compliance. More generally, I think that a willingness to learn is essential for anyone involved in supporting research in a university setting. Policies and requirements are always evolving – especially in relation to open access – so it is important to be able to adapt quickly. A good memory for acronyms is also useful!
Kate O'Neill – Working in Research Support
Kate O'Neill, Research Services Librarian at the University of Sheffield, discusses managing an institutional repository and supporting academics to engage with Open Access:
Claire Sewell – Working in Training
Claire Sewell, Research Support Skills Coordinator at the University of Cambridge, discusses her role training Cambridge library Staff:
What are the core tasks of your job?
It varies from day to day but essentially I'm providing training to Cambridge University library staff (across one hundred plus libraries) in the area of research support and scholarly communication. Cambridge is a very research intensive university and so no matter which library you work in or what your role is, you are supporting these researchers in some way. My role involves making sure that library staff are equipped with the knowledge they need to support the research community they serve. This involves a lot of topics from basic introductions to data management and open access through to hands-on workshops on text and data mining and presentation skills. I offer a lot of face to face training but recently I've been expanding this to include more online training and resources for those who can't attend training sessions. 
What do you need to do this job that you didn't learn at library school?
I qualified a few years ago now so there wasn't much concrete information about scholarly communication on my course which meant that I had to develop my knowledge on this area pretty fast. I also needed to develop my communication skills in a variety of ways. I had done some presenting before but I needed to look at adapting my message to different audiences and their particular needs. I also needed to learn a lot about being patient. For some people this area is a big change and not one they want to accept easily so I have to practice my diplomacy a lot more than I thought I would have to!
What is the best part of your role?
I think the best part (and the thing that I enjoy the most) is that I'm getting paid to learn. I've always been enthusiastic about professional development and tried a lot of different things over the years to develop my knowledge, from online courses to job shadowing. I was by no means an expert when I took on my current role and I'm still not so my role involves doing a lot of learning. When I see a need or when I'm asked to provide some training on something I do a lot of research to make sure I know I'm talking about. This often involves looking outside the box at different viewpoints and applications so I can offer a balanced training session or resource. In this way I'm constantly learning about new things in the world of scholarly communication and getting paid for doing what I enjoy!
Sarah Stewart – Working in Data Services
Sarah Stewart, Data Services Specialist at the British Library, discusses her role working with data at a large institution.
Lucinda May – Working in Scholarly Communication
Lucinda May, Scholarly Communications Librarian at the University of Manchester, talks about the skills she needs for her role:
What are the skills you need to do this job well?
A lot of the skills required to do this job effectively are transferable: you need to be very organised, able to juggle competing tasks and prioritise your workload, manage your time to work to challenging deadlines, and have strong attention to detail – whilst working at speed!
I'm part of a relatively large team at Manchester and it's essential to be able to work well with colleagues, sharing your different responsibilities as you work towards common goals. I've worked hard to build a solid understanding of numerous complex policies and their implications, and over the last year or so I've developed my skill-set to be able to translate this knowledge into implementing user-friendly processes, including considering service resource requirements and the user experience of our services. One of the most important skills to be an effective Scholarly Comms librarian is being able to explain complex information clearly to busy and sometimes stressed researchers. It's essential that I have confidence in the expertise I've worked to build up whilst doing this job, as I need to be comfortable being asked for a view on issues or options by academics.
It's not essential to have deep sector knowledge when starting this job, but you need to be committed to building a solid base of knowledge to draw on in conversations with researchers, and ensure you're up to date on developments. I've always been encouraged to find and cultivate my own authentic voice – to explain things in my own words, and be authentic to my personality when communicating with stakeholders, as this contributes to building collegial, respectful relationships and partnerships with our colleagues across the University. I'm always aware that when I'm speaking to researchers or at an event, I'm representing Manchester, so it's essential that I understand and am able to channel the culture of my organisation.
Resilience is another essential skill – both in terms of handling repetitive tasks and enquiries, and in terms of being challenged by people whose personal experiences of scholarly communication may result in alternative views on issues we're discussing. I think to be successful in this role you need to have passion and enthusiasm. For me, my passion is sparked by understanding the real-world impact that effective scholarly communication can have – the research I help to disseminate can change the world. My enthusiasm comes from appreciating how important it is that we get things right, as there are real, serious implications for getting things wrong. I'm driven to develop our services and support, and always do better myself.
How did you develop these skills?
A Scholarly Comms librarian post isn't an entry-level job: to hit the ground running I think you need to have experience of things like organisation, complex customer communication, and working under pressure. I moved into this role from an assistant-level role in the team. However I would like people to know that in my experience, sector knowledge isn't an absolute necessity, at least to joining a team in an assistant role with a view to progressing to a librarian role. Before joining Manchester's Research Services team I'd worked primarily with students in customer services roles, and before that in a public library, after a few years in the private sector – I had no previous experience of academic research, and issues relating to scholarly communication weren't touched in during my library qualification. Of course I had to swot up on research support considerations for my interview, but from that base I've done all my learning on the job.
It's essential to always listen to and watch your peers and senior colleagues – how do they approach tasks, explain things to academics, handle challenges? You need to be open to learning from things which don't go well, and be receptive to feedback to improve. Working in a busy, demanding environment meant I encountered a lot of practice examples I could learn from. My manager has always supported my development by offering constructive feedback, and by encouraging me to observe things before having a go myself, and building my confidence, for example, by suggesting I deliver training sessions to postgraduate research students before moving to academic staff, and attending meetings at "friendly" Schools before progressing to more "challenging" Schools!
Working at a large institution like Manchester means we have loads of opportunities to get involved with projects outside our core responsibilities, and by doing so, to observe and learn from other colleagues in different teams – my sector knowledge has benefited hugely from collaboration with our Library copyright lead, and I've learned about negotiation and influencing by observing our Library subscriptions lead in meetings with publishers. There's a lot of developmental support available in our Library, and I've been very lucky to be able to learn about leadership through involvement in our Leadership Development Network and exposure to members of our Leadership Team, including mentoring with our previous Head Librarian, Jan Wilkinson.
I absolutely love my job and feel proud to be part of the scholarly communications ecosystem. I would strongly encourage people to consider scholarly communication roles as it's such an exciting and growing area for libraries and Higher Education institutions, there's loads of scope to develop and make an important contribution.
Mary Donaldson – Working in Data Services
Mary Donaldson, Information Officer at the University of Glasgow, discusses her experiences of working in thus dynamic role.
******************************
Keep an eye on the blog for more interviews coming soon. Videos can be found on our playlist here.
Published 26 October 2018
Compiled by members of the OSC team